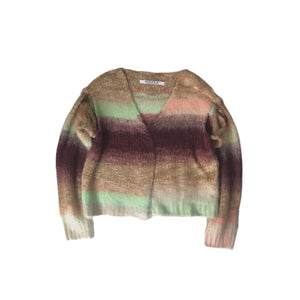 PERVERZE Gradient Stripe Wide Cardigan / Pink
様々な決済方法が使えます
Nylon 40% Mohair 32% Wool 28%

Three types of yarns are blended together.
The number of yarns is changed step by step to create a gradation, and these yarns are pre-twisted to reproduce a natural gradation.
Raised fabric
Original gradation border pattern
Oversized
Loose-fitting cardigan design
Armhole slit design
*The pattern and color may vary from piece to piece due to the use of irregular kasuri yarn.
38,500yen
通販をご希望のお客様はお気軽にお問い合わせください。